In today's rapidly evolving beauty industry, quality and affordability often seem at odds. But what if you could fuse luxury with value? Enter our comprehensive analysis of Supercuts prices in 2023, where sophistication meets savings.
Our team, consisting of seasoned beauty aficionados, has meticulously scoured every service offered by Supercuts, ensuring you're primed to make a wise, wallet-friendly choice.
Beyond mere aesthetics, we're passionate about sharing insights that optimize your salon journey, elevating your look without compromising your budget.
This guide isn't just a quick glance at services; it's a curated route, helping you navigate the myriad options to find your ideal beauty solution.
Why settle when you can have the best of both worlds? Embrace a beauty experience that's both top-tier and economical. Because you shouldn't have to pick between looking radiant and being financially smart.
At Supercuts, luxury meets affordability. Haircut prices span $19 to $37, making style accessible. Supercolor options start at $30 and extend to $73, providing a wide spectrum for aesthetic flair. Additional treatments range from $7 to $40, ensuring complete grooming solutions for every budget.
Supercuts Prices In 2023
Haircut
(Hot Towel Refresher Included With All The Haircuts)
| Services | Average Price |
| --- | --- |
| Supercut | $19 |
| Supercut II (Includes Shampoo & Basic Conditioner) | $23 |
| Supercut III (Includes Shampoo, Basic Conditioner & Blow Dry) | $37 & Above |
| Supercut Jr. (10 & Under) | $17 |
| Supercut Sr. (65 & Over) | $17 |
When it comes to Supercuts, there's more than meets the eye. Their flagship service, the Supercut, blends expert craftsmanship with undeniable value, creating a look you'll love without the steep price tag. But why stop there?
Supercut II takes you a notch higher with revitalizing shampoos and conditioners that breathe life into every strand.
For those craving a luxurious experience, Supercut III adds a blow-dry, giving you salon-perfect hair that endures.
Elevate it even further with Supercut IV, which throws hot tool styling into the mix for an all-out transformation.
Supercuts aren't ageist; with options like Supercut Jr. for kids and Supercut Sr. for seniors, they cater to all generations. And with each cut, a hot towel refresher is the ultimate finish, leaving you rejuvenated.
This isn't just a haircut; it's a comprehensive grooming ritual.
Supercolor
| Services | Average Price |
| --- | --- |
| Tips | $73 & Above |
| Highlights | $35 & Above |
| Glazing | $40 & Above |
| Root Retouch | $45 |
| Gray Blending | $30 |
Stepping into Supercuts, you don't just get a haircut; you're presented with a realm of possibilities to accentuate your unique beauty.
Want to radiate a beachy glow? Sun-kissed highlights might be your perfect match. Craving drama and depth? Lowlights can dial up the intrigue.
If you've been eyeing the vibrant hair hues trending on social media, their tips color service offers a commitment-free way to play with color.
As the silver strands start appearing, don't fret—Supercuts has a gray blending treatment that lets you age both gracefully and stylishly.
Their glazing service boosts your hair's natural luster, offering a light-reflecting finish that commands attention. And let's not forget the root retouch service—a must-have for maintaining impeccable color between those full-color appointments.
This isn't just about altering strands of hair; it's about empowering you to be your best self.
Additional Services
| Services | Average Price |
| --- | --- |
| Shampoo | $7 |
| Conditioning Treatment | $13 & Above |
| Blow Dry/Hot Tool Styling | $30 & Above |
| Styling | $40 & Above |
| Tea Tree Experience | $10 |
| Beard/Bang Trim | $10 |
| Waxing (eyebrows) | $9 |
| Waxing (lip/chin) | $8 & Above |
When you set foot in Supercuts Salon, anticipate more than a haircut—expect a holistic ritual for the senses. The journey commences with a soul-soothing shampoo and conditioner, laying a lush foundation for any cut or color you desire.
It's a brief but potent hiatus from the daily hustle, recalibrating both hair and mind. Next, let the salon's proficient stylists morph your cleansed tresses into a masterpiece fit for runways or routine errands.
Step up your salon session with the enlivening Tea Tree Experience. Imagine a scalp massage harnessing the essence of invigorating tea tree oil.
It's not just good for your scalp; it's an energy reboot. To round off the transformation, Supercuts' adept estheticians offer meticulously executed waxing services for eyebrows, lips, and chin.
Leave no detail unpolished; emerge a refined version of yourself, radiating inside-out confidence.
Products Sold By Supercuts Salon
Our team of industry experts has carefully examined the salon's product lineup to provide you with an insider's look into the top brands and items available, ensuring you can achieve salon-quality results at home.
At the heart of Supercuts' product range is DESIGNLINE, an exclusive line developed by Regis Corporation. This collection features high-quality hair care essentials, crafted with a focus on performance, style, and innovation.
In addition to its in-house brand, Supercuts carries a variety of products from the top salon brands across the country. Redken, Total Results, Mitch, Paul Mitchell, and Biolage are just a few of the esteemed names you'll find on their shelves, offering a wealth of options to address your specific hair concerns.
For those seeking a touch of luxury, Supercuts also offers Moroccanoil and Amika products, known for their nourishing formulas and exquisite fragrances. These brands harness the power of exotic ingredients, such as argan oil, to deliver outstanding results and elevate your hair care routine.
To complement their product offerings, Supercuts stocks an array of P.O.P. Brushes and Tools, designed to help you achieve professional styling results with ease. These high-quality tools are the perfect addition to your hair care arsenal, ensuring you can recreate your favorite salon looks at home.
With this comprehensive overview of the products sold by Supercuts Salon, you can confidently select the best items for your hair type and needs. It's essential to keep in mind that product availability may vary depending on your location.
To ensure that you find the specific items you're looking for, we recommend checking with your nearby Supercuts store. Their knowledgeable staff will be more than happy to assist you in locating the products best suited to your hair care needs and preferences.
Gift Cards By Supercuts
Surprise your loved ones with the perfect gift of style and pampering by choosing a Supercuts Salon gift card.
These versatile gift cards offer a world of possibilities, from essential hair services such as Supercut and Supercolor to an extensive range of professional hair care products that elevate one's hair care routine.
Accepted at participating salons across the United States, Puerto Rico, and Canada, Supercuts gift cards make it easy to treat someone special to a day of self-care and rejuvenation.
Whether you're celebrating a birthday or anniversary, or simply expressing your appreciation, these gift cards are a thoughtful and convenient choice. To make your gift even more personal, Supercuts allows you to add a custom audio message and photo when sending the card digitally.
This personal touch ensures your recipient feels truly special and appreciated. Plus, with the option to send the gift card instantly via email or schedule it for a future delivery date, you can plan your surprise with ease and precision.
Purchasing a Supercuts gift card is simple: visit a participating salon or order one online. Please note that gift cards bought online can only be redeemed at participating U.S. and Puerto Rico salons.
So, why wait? Choose a Supercuts Salon gift card and let your loved ones indulge in a luxurious hair care experience tailored just for them.
Supercuts Hours Of Operation
Knowing when you can book your next salon session is crucial for planning a self-care day that fits your busy schedule.
The operating hours at Supercuts have been meticulously scheduled to accommodate a range of lifestyles. You'll find their doors open from 9:00 a.m. to 8:00 p.m., Monday through Friday.
Need a weekend touch-up? They've got you covered with Saturday hours running from 9:00 a.m. to 7:00 p.m. and Sundays open from 10:00 a.m. to 6:00 p.m.
Keep in mind, that these hours can vary by location. It's recommended to consult your local Supercuts to confirm availability.
| Operating Days | Operating Hours |
| --- | --- |
| Monday | 9:00 am – 8:00 pm |
| Tuesday | 9:00 am – 8:00 pm |
| Wednesday | 9:00 am – 8:00 pm |
| Thursday | 9:00 am – 8:00 pm |
| Friday | 9:00 am – 8:00 pm |
| Saturday | 9:00 am – 7:00 pm |
| Sunday | 10:00 am – 6:00 pm |
These hours provide ample opportunity for you to benefit from Supercuts' extensive range of services, whether you need a last-minute cut before a Monday meeting or a relaxing Sunday scalp treatment.
History Of Supercuts Salon
Delve into the fascinating history of Supercuts Salon, an iconic brand that has revolutionized the hair salon industry since its inception.
Founded in 1975 by Geoffrey M. Rappaport and Frank E. Emmett in Albany, California, Supercuts set out to provide high-quality hair care services at budget-friendly prices.
With its innovative approach and commitment to customer satisfaction, Supercuts quickly gained popularity, solidifying its place in the hearts and minds of salon-goers across the nation. Today, Supercuts boasts an impressive 2,600 locations, with its headquarters nestled in the bustling city of Minneapolis, Minnesota.
As a testament to its success, Supercuts is now a wholly-owned subsidiary of the renowned Regis Corporation, which also owns prominent salon chains such as MasterCuts, CostCutters, Regis Salon & more.
This strategic partnership has further bolstered the brand's reach and reputation in the hair care industry. Despite its rapid expansion and growing influence, Supercuts has remained true to its roots, providing exceptional services at affordable prices.
This commitment to affordability has positioned the salon as a direct competitor to other well-known chains, such as Great Clips. However, Supercuts sets itself apart with its unique offerings, dedicated staff, and unwavering focus on customer satisfaction.
Throughout its illustrious history, Supercuts has been a trailblazer in the salon industry, embracing new techniques and trends while maintaining a strong connection to its core values.
The brand's approachable, community-driven ethos has resonated with clients from all walks of life, making Supercuts a household name in the world of hair care.
As you explore the diverse range of services offered at Supercuts Salon, you'll not only be treating yourself to a fantastic salon experience but also participating in a rich legacy that spans nearly five decades.
With this in-depth understanding of Supercuts' history, you can appreciate the brand's enduring dedication to quality, affordability, and customer satisfaction. So go ahead, indulge in the Supercuts experience, and become a part of this remarkable story of innovation and success in the hair salon industry.
Final Words
Supercuts Salon has masterfully combined quality, affordability, and convenience, making it a top choice for hair care enthusiasts everywhere.
Our thorough examination of Supercuts prices and services reveals a salon that goes above and beyond, offering an extensive range of haircuts, coloring, and additional services tailored to client's unique needs.
Furthermore, with their premium hair care products and knowledgeable staff, Supercuts Salon ensures a comprehensive and satisfying experience for everyone.
As you plan your next salon visit, keep in mind that Supercuts prices offer unbeatable value without compromising on quality.
By choosing Supercuts Salon, you're not only investing in a budget-friendly hair care solution but also entrusting your tresses to skilled professionals dedicated to helping you look and feel your best.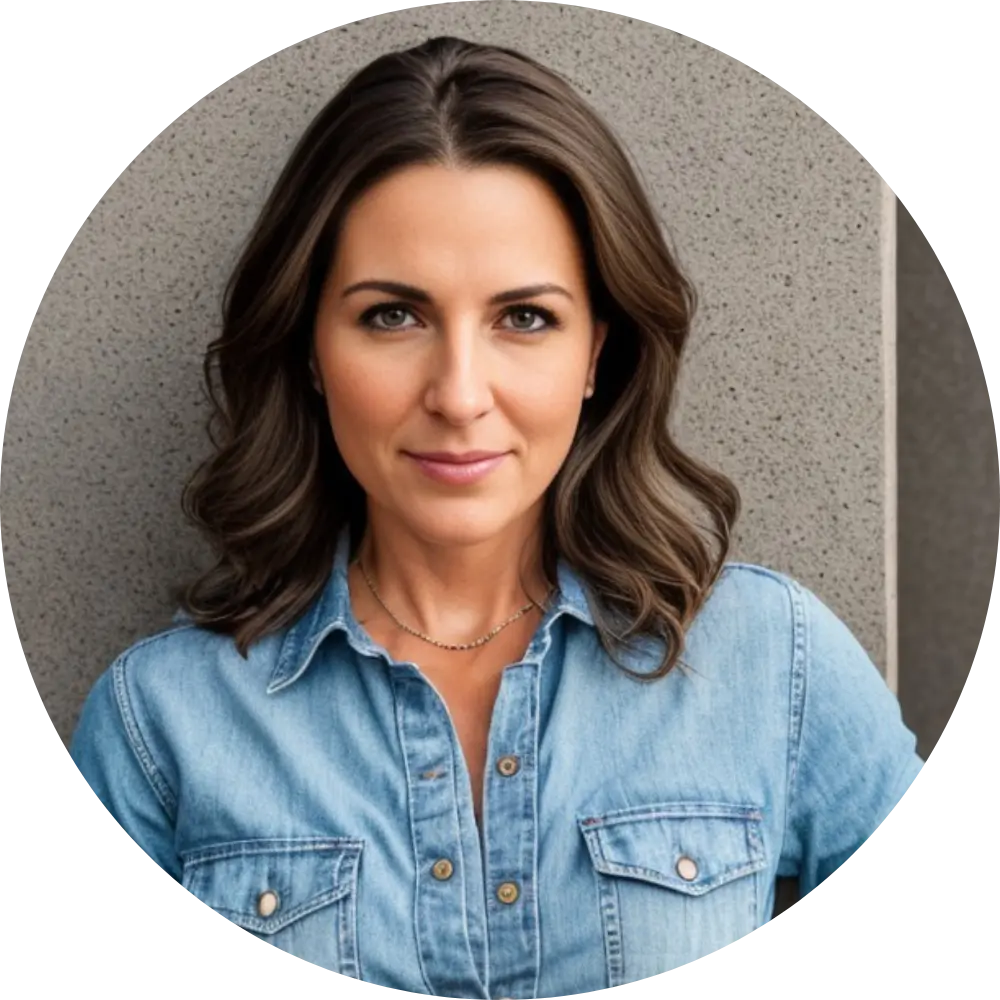 I'm Anna Peterson, creator of Salon Route. Equipped with a Cosmetology License and a degree in Beauty & Wellness from the Aveda Institute, I've honed my skills at renowned brands such as Sephora, MAC, and RMS Beauty. With over a decade of experience, my expertise spans nails, hair, skin, and wellness, which I've passionately infused into Salon Route. I'm dedicated to providing an all-inclusive platform for beauty and wellness services, resources, and products. I believe in accentuating individual beauty and promoting well-being through holistic methods. Continuously innovating, I ensure Salon Route remains at the cutting edge of beauty and wellness trends.